Andrew Booth
RPBio, PBiol, ISA Certified Arborist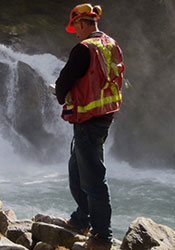 Andrew is a Registered Professional Biologist (RPBio)in BC, a Professional Biologist (PBiol) in Alberta and an International Society of Aboriculture Certified Arborist and tree risk assessor with over 7 years experience in the environmental consulting business. Combined with 15 years experience in forestry, construction and resource management, Andrew is able to quickly identify environmental issues and implement creative solutions which satisfy both the client and governing agencies.
He has a comprehensive background in project management, environmental assessment, permitting, in-stream works, aquatic habitat surveys, wildlife research, arborist and vegetation assessments, habitat assessments for species at risk, water quality monitoring and environmental monitoring/management on large scale, multi-year capital projects in both the terrestrial and marine environments.
Andrew is a strong member of the AquaTerra team contributing his expertise in bird breeding/nesting surveys, arborist assessments for development, and hazard tree identification for RAR surveys.